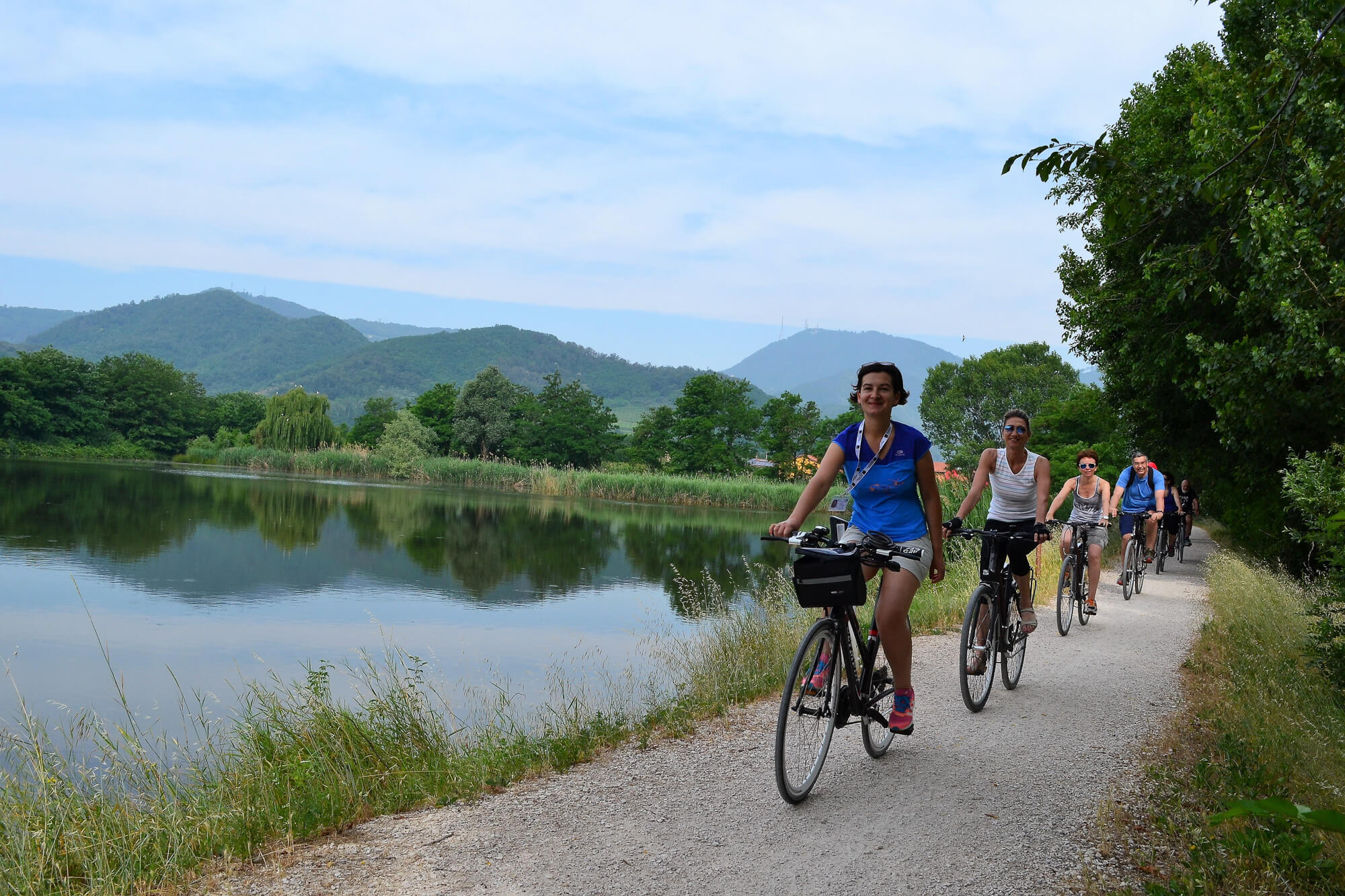 We will discover together the area of the Euganean Hills that rise in the southern part of Padua and called also "the hills of Venice".
The tour is a true slow experience that gives you the opportunity to meet wine producers and local farmers. It is a true image of the area you visit and gives a sensation of freedom and relax.
This bike tour is an opportunity to discover the wine we produce in the Euganean Hills and the authentical Italian hospitality. We will reach cellars by bike and discover how the volcanic origin of these hills influences the soils and the wine production. We will meet Nicola and Francesca that continue the work of their grandfathers with passion and deep respect for the vineyards and this land.
Tour Highlights:
Meeting point to our shop in Montegrotto terme, bikes delivery and departure for our bike tour.
For the beauty of their landscapes, the Euganean hills have always been a privileged place for the building of medieval castles and villas. We will find many of them along our way and we will stop for photos and explanation of the geography and history.
Cellar tour and white wine tasting, paired with home made local salami and cheese in the first winery.
Departure towards Arquà Petrarca, one of the best preserved medieval villages, crossing the wonderful Villa Barbarigo in Valsanzibio.
Visit of the village Arquà Petrarca and tips for free light lunch.
After the visit of this village, we continue along a medieval canal to our last jewel: the river settlement of Battaglia Terme.
We reach the second winery for the cellar tour and red wine tasting, paired with home made local salami and cheese.
Our trip among medieval villages, walled cities and noble Venetian villas finishes here, but I have a lot of other proposals for you!
Itinerary: in plain, on country roads, low traffic asphalt roads and river banks
When: every day, on request
Itinerary lenght: 50 km
Altitude range: 52m
Difficulty: easy
Tour Duration: full day from 10 am to 5 pm
Price: € 80 per person
Included: Tourist guide and toouring bike included. Wine and local products tasting in two different wineries.
Tour Exclusions: Transport to the meeting point is not included.
Everything is not specified in Inclusions is excluded.
On request, e-bike rental is available at € 10.
The tour is confirmed with minimum 5 people.